Logistics Automated Packaging System
System Solution Introduction
Solution overview
We adopt a 3D machine vision system to detect the position and attitude of disordered packages, send the position signal to the robot, and guide the robot to grab the packages. This process efficiently replaces repetitive manual labor and reduces package damage.
Complex packaging environment
Positioning: Provide the optimal grabbing strategy and locate the grabbing position
Sorting: Distinguish between soft packages and cardboard boxes to prevent the packages from being thrown away
Exception handling: Dealing with oversized, overweight, deformed packages or those that are stuck
Accurate positioning of cluttered packages
Accurate positioning of cluttered packages
Vision system configuration
One FM851-E2 industrial 3D camera
External LED light source
Software SDK (IPC)
Package Picking software package
Complete Solution Configuration
Camera:
Camera hardware: Percipio FM851-E2
Vision software: Package Picking
Robot controll system: iNexBot controll system
IPC:
System: Windows 10 Enterprise 64-bit
Processor: Intel(R) Core(TM) i7-10700F CPU @ 2.90Ghz
Memory: 16G
GPU: NVIDIA GeForce GTX 1660 SUPER
Others:
Light source, suction cup, checkerboard grid, air pump, etc.
Comprehensive System Performance
Efficiency under experimental conditions: 1680 pieces/hour
Cycle time: 2.08 s/piece
Actual operation efficiency: > 1500 pieces/hour
Image acquisition and calculation process are parallel to the movement of the robot, achieving zero waiting time throughout the entire process!
Scheme example
Vision System Installation Instructions
Camera mounting height:
1170 mm (from the surface of the supply table)
Coverage (field of view):
725*635 @ 700 mm
1260 * 950 @1170 mm
Installation height
Vision System Performance
Based on the Percipio active binocular structured light 3D camera FM851-E2 with high frame rate and large field of view, it provides customers with an ultimate cost-effective industrial-grade 3D vision system.
Percipio
FM851-E2
3D camera size
124mm X 28.6mm X 86.8mm
Measuring range
0.7 m-6 m
3D measurement accuracy
1 mm-6 mm
Depth map resolution
1280p
RGB resolution
1280p
Frame rate
16-26 fps
Baseline configuration selection
55 mm
Working range
715 x 600 @ 700 mm
6650 x 5340 @ 6000 mm
Interface
Gigabit Ethernet (RJ45)
Cases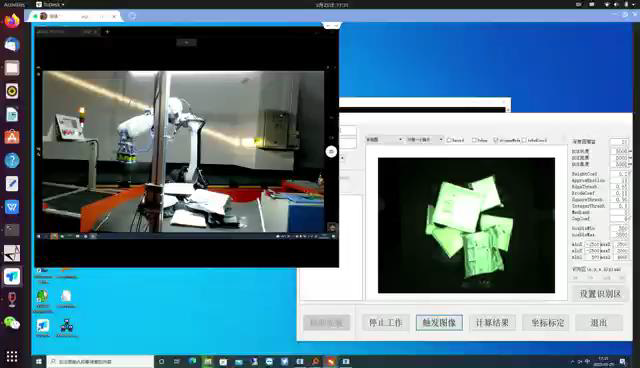 PC monitoring
If there are errors in this article please give us feedback, we value your comments or suggestions.